Nothing can ever truly prepare anybody for any sort of catastrophe or any unwarranted disaster that might be lurking around the corner. But should anybody face anything of this sort, they all prioritize loss of life and loved ones over a materialistic loss. Once you know you have your support system intact, it reiterates the belief in rebuilding everything once again. And talking about caring for your close-knit set of people, you can never exclude the special members of the family who light up your days by just being a part of them – your pets!
Losing them can be as painful as losing any other member of the family, and this is the reason why, in case an unfortunate situation unfolds, you'll give an arm and a leg to keep them safe.
Family Asked To Evacuate House Amid Sudden Fire
Laura Ringenberger was faced with one such terrifying instance. Two Sunday nights ago, the entire family – her, her husband and their two kids and few visiting relatives – were at their home in Napa, California when they were abruptly asked to vacate the place.  "When we got that phone call, we didn't think much of it," Ringenberger told The Dodo. "But when we walked outside, the moon was pink, and we were staring at raging fires across the way."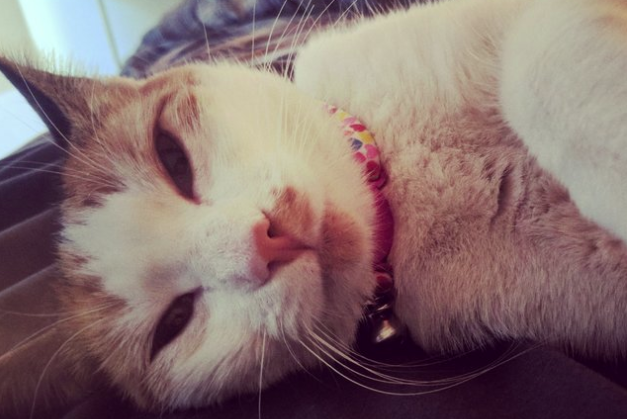 As shocked and petrified the family was, Ringenberger and her husband's first instinct was to somehow get the kids out. And so they rushed to get them out of bed and then sent them away to their relatives where they wouldn't have to worry about their safety.
However, kids weren't the only concern on Ringenberg's mind. Amid raging fires and lots of commotion, she kept looking for someone who was as much important to her and was as much in danger as the entire family themselves – her pet cat Kitty Kitty Star. The cat was brought into the family since she was just a little kitten and had always been an important part of the household since. Although the situation demanded a quick evacuation from the place, she just couldn't bring herself to leave without her very own Kitty Kitty Star.
"My husband was knocking on our neighbors' door to make sure they were up and moving — they were an older couple," Ringenberger said. "While he was doing that, I was calling for the kitty. I called for 15 to 20 minutes."
However, much to her disappointment, she could not find her anywhere. Kitty Kitty Star was basically an outdoor animal who loved being out in the open, spending her nights exploring. Even after repeated attempts to find her and many calls by Ringenberger, Kitty just didn't show up. Waiting for any more time could have cost them their life as the fires kept growing bigger and fiercer. As much as she hated to leave without her, she was left with no choice but to ultimately do so. "I did not want to leave her," Ringenberger said. "None of us wanted to leave her, but it was a life or death situation. People have died in these fires."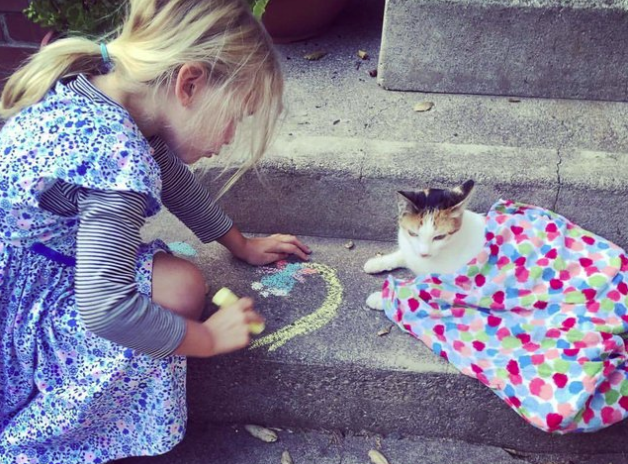 Over a period of time spent with her, Ringenberger was sure of Kitty's strength and resourcefulness, but it took a great deal to not worry about her amid such raging flames, especially when she wasn't even sure about her whereabouts and her being alive.
"I thought that we would never see her again," she said. As one could imagine, the next day — Monday — was nothing short of a trauma for Ringenberger and her family. They couldn't stop thinking about what would have happened to their beloved cat and whether she survived it or not. Meanwhile, the family went on to stay with some friends in another part of Napa. And even though all of them were safe, they impatiently waited to hear any news about Kitty Kitty Star. It was on Tuesday that they were informed about their house being completely destroyed in the fire. But what kept Ringenberger concerned was the well-being of her cat Kitty Kitty Star. Two days after the fire, on Wednesday, Ringenberger finally went to see the house — or what was left of it.
A reporter filming for ABC News helped her go up there. "It's just ash and dust," Ringenberger said. "It's a lot to process." She immediately started calling out for Kitty Kitty Star. At first, they didn't see or hear her. Then something miraculous happened. "Far off in the distance, we heard her. 'Meow, meow,'" Ringenberger said. "It was a moment of giddiness. I thought, 'Oh my gosh, I can't believe she got through all of this.'"
Ringenberger bundled her dear Kitty Kitty Star up in her arms. "You could tell that she'd been in the thick of it," Ringenberger said. "She was all brown and smoky." But Kitty Kitty Star was alive — that was the most important part."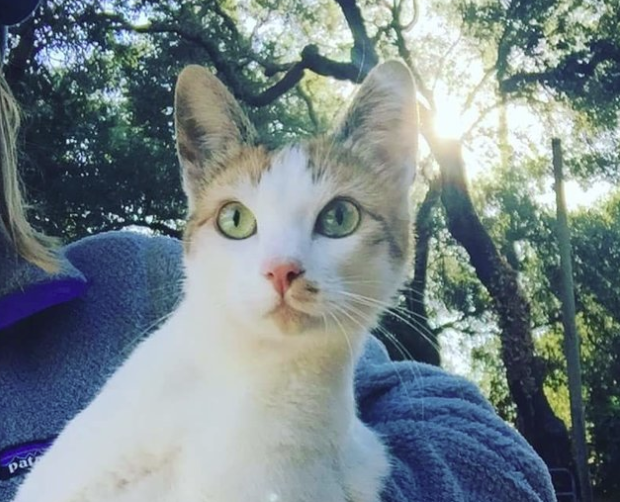 "On one end, there's been so much devastation," Ringenberger said. "On the other end, she's safe." "I've never heard her more vocal," she added. "That first day driving back, she just gave me the business all day long, as if she was telling me, 'How dare you for leaving me,' or 'You wouldn't believe what I saw.'"
The incident has been pretty rough on the family and they have been staying at a friend's empty condo in Lake Tahoe after they lost their home to the fire. "Kitty Kitty Star is now an indoor cat, and my daughter's really happy because that's all she ever wanted," Ringenberger said. Kitty Kitty Star seems to be coming around too.
"This place where we're staying has two flights of stairs, and she's been bouncing up and down the stairs," Ringenberger said. "She's a very happy kitty. We woke up this morning, and she was curled up in bed with us, which was a sweet thing." As of now, the family is still trying to cope with their loss. But if nothing else, they at least have each other to fall back on.
Thank God she is ok! Share this inspiring story with your friends and encourage them to keep praying for all of those who lost so much in the fires out west.