It is said that great beauty comes from great sadness. Sometimes it's not the song that makes us sad, but it is the people and memories that come to your mind when you hear it.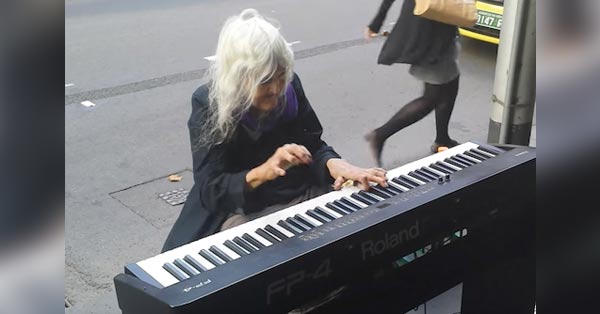 Natalie is a musician from Melbourne and she became an internet sensation after her son posted a video of her playing the piano on the streets. Though her music is breathtaking her story is filled with a lot of  sadness. Her husband left her, she lost two of her children, and even spent time homeless. Her great music is beautiful to listen to and is a product of all the hardships she faced in life.
Matthew Trayling, Natalie's surviving child, shared a video of his mother playing a beautiful tune on the piano. It didn't take long before the video reached 1 million views. Business Insider got in touch with Matthew and he shared the story of why he posted the video. He said "When I filmed this some time back, I felt, well was hoping that maybe the world would sit back and listen to one of, if not the best 'unknown composer' in the world today (my mom Natalie). Well it seems the world is listening and rightly so. This is just one of her compositions. And it appears to be going viral on YouTube."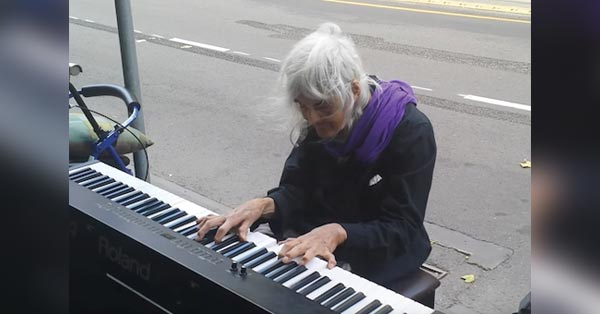 Natalie performs on the street everyday, her music is soothing and just beautiful. The music is an expression of what Natalie is feeling and while listening to it, we can feel it too.
The world has been hard on Natalie but that didn't force her to give up on music or lose hope about her talent. Natalie is a talented musician and she finally got her big break, even if it is in her later years. Matthew Trayling now uploads many videos of his mother performing and it is definitely something to watch.
Please share this amazing video and encourage others that God is good no matter what we have gone through.