There is no blessing quite like that of a child into a couple's life! Parenting is no easy task, but God is here to help us through any difficult times so that we can do our best raising our children in his teachings. Children are indeed light into our lives, but what do we do when our child is suffering from something we can't automatically fix?
Reese Park is a 5-year-old girl just trying to live a normal life with her family in Bridge Creek, Oklahoma. She lives with her parents and her 5 siblings, in which she is the second oldest. Her parents describe Reese as a quiet and strong little girl, so it was very out of character when she claimed she wasn't feeling well and began begging her family for medical help last July.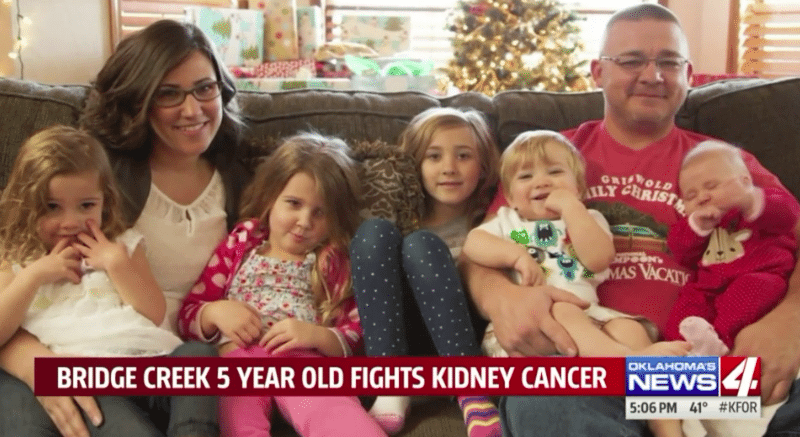 "She laid down on the floor and was crying and said, 'I need to go to the doctor," Resse's father, Brad Park, said. Brad then loaded up all 6 children into the family car and headed to the emergency room. Resse's mother, Deidre, met the rest of the family there soon after. Deidre is an ultrasound technician, so it came as quite a shock when she was shown the images of a large mass on Reese's kidney. She sees things like this often, but she couldn't grasp the reality that it was happening to her own family, especially not to her sweet 5-year-old daughter.
"They said it was a Wilm's tumor," Deidre explained. "I was unsure what that meant at that point, even though I'd studied about it and read." Brad chimes in, claiming "It was devastating at the time."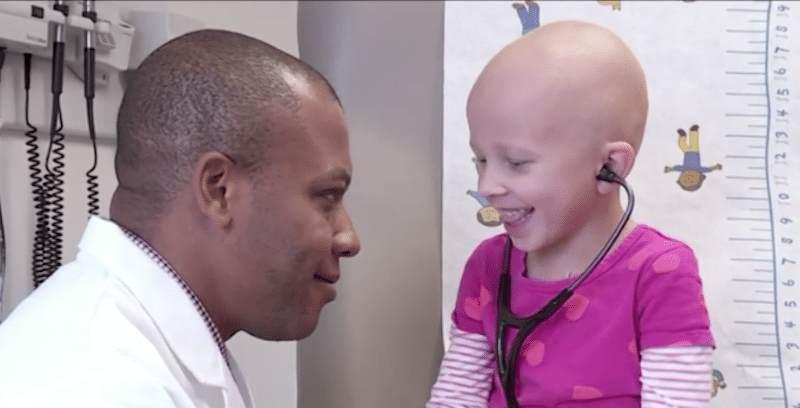 Reese is currently undergoing treatment at the Jimmy Everest Center for Cancer. Even though she is undergoing chemotherapy, he parents claim that this quiet girl is even more talkative than usual. Her doctor, Dr. Chibuzo Ilonze, even lets the little girl listen to her own heart through a stethoscope, making every visit just a little bit easier. Dr. Ilonze says that Reese's kidney cancer has come with a complication. It was found that the tumor on her kidney had ruptured before the doctors were able to surgically remove it. "When a tumor ruptures, we're concerned tumor cells have spilled into the abdomen, and because of that, chemo will not get everything," Dr. Ilonze said. This complication meant that Reese had surgery to remove a kidney, and that was followed by both chemotherapy and radiation treatments.
The diagnosis has been tough for Reese's parents, but they are amazed how their daughter is handling everything. "She just goes on about her business and like it's no big deal, fussing and fighting with her sister, and playing and loving on them," Deidre said. Luckily, there is a light at the end f the tunnel. Resse's final treatments are scheduled for next February, and we are praying that they would indeed be her last!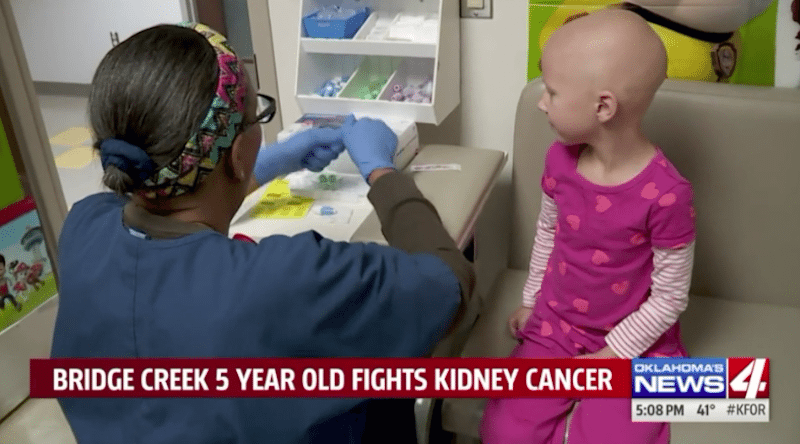 Share this story and join us in praying for Reese's recovery and ask that God would strengthen her family during this difficult time.