God looks out for each of us. Even when we face difficulties, he always makes sure he send someone to watch over us. All we need to do is keep trusting him and know that he will provide for us.
Mom Abandons Her Infant Son, Then The Nurses See What's Under The Newborn's Blanket
While still a healthy, cute baby boy, Gabe was born without any arms or legs. This fact came as a huge shocker for his mother, who abandoned him in Brazil, Gabe's birthplace. As an infant, Gabe was given up to an orphanage where he had to overcome a lot of obstacles.
However, his life was about to change when a mother living in Utah heard about him and wanted to adopt him. Janelle Adams, the mother who adopted Gabe, accepted him as her own and showed limitless compassion and affection towards him. With her untiring support and encouragement, Gabe is able to read, write, walk, climb stairs, and do everything his siblings would do. He is no different from others in the house, thus making him feel loved and accepted.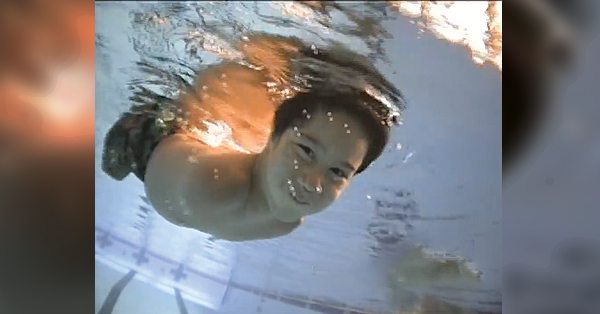 Gabe is able to keep with people of his age. Moreover, he is able to do everything independently. Gabe is able to enjoy freedom and happiness just like everyone else. Though waking up each day makes Gabe realize the hard work that lies ahead, he always has a smile on his face. This makes him even more special. Janelle Adams inspires everyone to love and accept children like Gabe. With her support, Gabe is now able to lead a happy and fulfilling life.
Fed Up Mom Spills Out Her Heart In Facebook Post, Then Everyone Learns Her Tear-Jerking Reason
Kristen Rumphol has two beautiful kids who mean the world to her. But she was heartbroken after the incident that occurred to her son Brandon while he was playing in a swimming pool. Kristen Rumphol decided to vent her feeling on Facebook through a letter, which has now gone viral.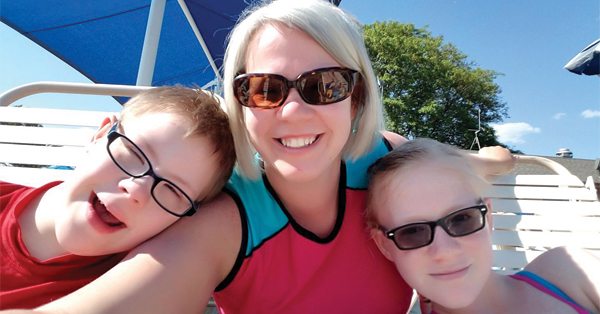 Brandon has Down syndrome, but that doesn't thwart him from wanting everything all the other kids want. When Brandon was taken out on a fun-filled day to the public pool, he went out looking for a new friend to play with. But no one wanted to play with him. Other kids would ridicule him, which made Brandon drown in tears of rejection and confusion.
Despite being categorized as nonverbal, Brandon tries hard to communicate. But the pain of rejection is far from being explainable. Brandon's struggle became his mother's struggle. She then decided to use social media to spread awareness about this struggle, which perhaps several mothers are facing across the globe.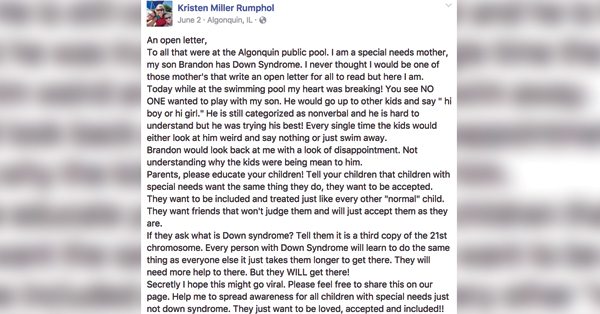 Kristen made a plea in her letter that parents should educate their kids about children with special needs. She wanted to convey the message that such kids are not different from others, and deserve to be loved, included, and accepted. She ended her letter with a powerful message on perseverance while dealing with kids with special needs.
Kristen's letter is a lesson we should all remember. We only hope that Brandon, once he gets older, learns that being different is not wrong. It means there's no one else as special as him in the entire universe.