New York City is the place to be. It is filled with famous actors, musicians, lawyers and also the wannabe versions of the same. The city is known for its sky high buildings and busy lifestyle. A walk along the roads would be a treat for your eyesight as you feast on these wonders of architecture.
But many who have lived there would say that New York is not just defined by the glitz and glamor. It is a city where many struggle and sometimes leave a message of survival against the odds. The survival is not a fight for basic necessities instead it is a fight against the unnecessary luxuries. It may sound odd but indeed for every New Yorker, the struggle is to balance their earnings with the numerous expenditures that are unavoidable. Amidst them is a guy who has fought the battle and won- showing them an example of how to live a New York life within a limited budget.
For a New Yorker, the expenses of living in this city are rarely manageable. The day to day activities along with the rent always come in the form of a huge bill for the city's dwellers.  For many, this place is filled with opportunities and they flock towards it. They might just invest their whole life savings to rent an apartment in a decent neighborhood. But once settled the expenses seem to be never ending. New York offers the finest version of everything and this includes the best restaurants, clubs, Broadway shows etc.  How can you stop a poor soul who has been slaving away for the whole week from being lured into these places? But entertainment comes at a price and it is definitely not pocket-friendly. Such a situation is not something new for the city dweller.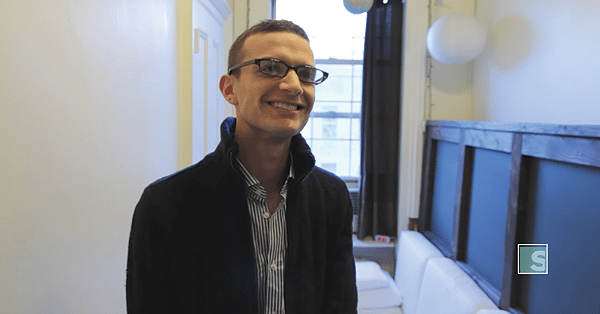 Can there be a scenario where a person beats the odds and shows that a comfortable living has nothing to do with the amount of money you have? Yes, apparently strange things do happen. Luke Clark Tyler has done the unthinkable. He is a freelance designer by profession and is presently living in a rented apartment in Manhattan near Hell's Kitchen. So you will ask what's so special about a guy renting an apartment in Manhattan. He must be rich of course. Well, that's not the answer. He has apparently constructed a livable space in the tiniest lodging in New York City.
Do you still not believe this tale? Well let's give you some statistics, he lives in an apartment which is 78 square feet, yes this might just be the size of one of your bedrooms or a hall. The size of this apartment has given it the rightly earned title 'smallest apartment'.
Now you will ask who in their right mind would rent out an apartment (yes, now to call it an apartment is kind of confusing) this small. Hats off to the broker who sold it but what about poor Luke? Don't worry you will be astonished to know that Luke looked at the apartment and knew that this is a challenge he is ready for. When you think of this so called house the only picture that will pop into your head is that of a tiny and compact space. For Luke, this tiny space became the source for endless innovative ideas.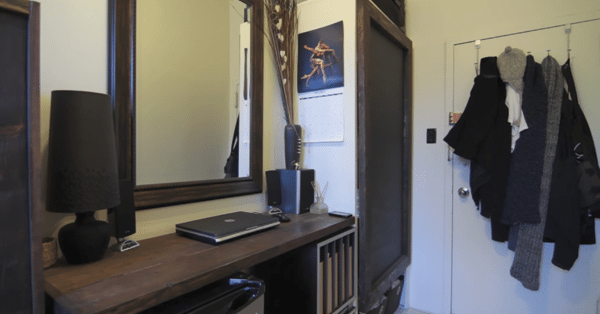 As every other house hunter, Luke started out his search by looking at the different advertisements. His attention was caught by the ad for this apartment which was described as a studio. Of course, it does not classify itself to be called a studio but then it's an advertisement for sale purposes, a play of words should be expected. He finalized the deal and the transformation journey began.
Anyone who sees the world's 'smallest apartment' today will surely use the word 'home' instead of a tiny space. And the fact that he uses it for both work and for entertaining his friends and family is commendable. The designing abilities of Luke are indeed brilliant. It is all about minimal space with maximum utilization.
So let's take a tour of his home. The first thing that catches your attention is the way things are kept in a very organized manner. The couch is multifunctional. During the day it is used as a couch for Luke to relax or for those who visit his home. At night the bed which is folded over the top is pulled over it. Next to the couch are the mirror and a desk. The desk serves as a working space for Luke. He likes the idea of looking at a mirror rather than a wall while working.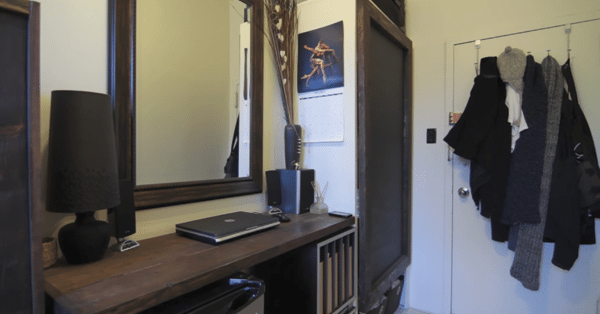 Near the desk, you will find the closet. Again this is very neatly organized containing certain essential items which Luke uses on a daily basis like shoes, towels, a few of his books etc. The bathroom is a shared one and is down the hall. The only drawback that Luke feels is that since it is a dorm style bathroom you have to carry things while going to use it. But he is willing to ignore this tiny glitch since he pays minimal rent.
Luke is living a pretty comfortable life in his present home. He has a clear understanding of how to thrive under the circumstances. At present this situation suits him perfectly but he may not continue to live in this place for long. Considering the fact that he is a man of rare talent, a steady professional progress is definitely expected. In the future, he might just be living in a mansion with a backyard and a swimming pool.
Wherever he moves to, the start has been a brilliant one- the tiny space that has become his home and a wonderful example for many. At the end of the day, Luke is happy and his efforts are totally worth it. Here's wishing that his professional journey also makes him happy. We hope to see him leaving the world's 'smallest apartment' one day.
Share this story with someone who loves NYC to make them laugh!