This world is full of God's creations. Believe it or not, snakes are also one of God's creations. They have certain roles to play in the environment. Although they're pretty useful at times, they can also be really dangerous, that's why Florida started a Python Elimination Program to hunt these pesky creatures in order to protect the native wildlife in the South Florida Water Management District.
Jason Leon, a veteran python hunter from Florida, broke the agency's standing record when he killed a 17-foot, 1-inch long Burmese python in the southern Miami-Dade County at 2:45 am on a Friday. He said the snake was so huge that it could even, "kill any full-grown man." Leon went on to say that, "If that snake was alive right now it would probably take like three of us to be able to control that snake."
The 17-foot snake weighed in at 132 pounds and is the longest snake that has ever been brought in as part of the agency's program. Leon didn't just break the record in Florida that year, but he is also the current state record holder with an 18-foot, 8-inch python that he caught back in 2013.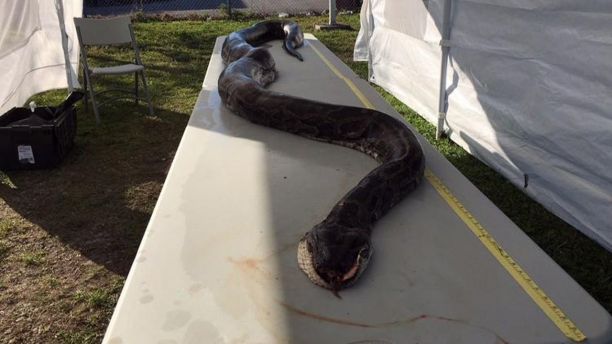 On a video posted by the South Florida Water Management District, Leon says that he first saw the snake lying in submerged water with a smaller male nearby. He quickly caught her and shot her while holding her. The male python was not captured. After he brought his kill into the district's field office located in Homestead, he joked that "We're going to find a 20-footer tonight."
The behemoth python that Jason killed on Friday broke the previous record that was set by Dusty Crum, who had caught a snake measuring 16 feet and 11 inches according to the WSVN.
The water district started this Python Elimination program in order to remove these invasive creatures that were a threat to the native wildlife in the place. It asked South Florida hunters with a license to come forward and help them in this mission. The program has been successful so far. It has killed around 730 or more pythons since March when it first started. An approximate total of 730 pythons were removed from the beautiful Everglades according to the South Florida Water Management District.
This isn't just volunteer work either! The district pays good money for the work that the hunters are doing. AS part of the hunt, the hunters get paid $8.10 per hour and an additional bounty for every snake that they manage to catch. The district plans to continue this program until their budget of $125,000 eventually runs out.
Sssssseventeen Feet!

Python hunter Jason Leon set a record for the SFWMD Python Elimination Program with this 17-foot-1-inch Burmese python that he brought to the District's Homestead Field Station today. pic.twitter.com/p6iNnTex6H

— South Florida Water Management District (@SFWMD) December 4, 2017
Share this story to amaze your friends with this gigantic snake!