Arthur Jacobs and his wife Marcia have been together since before WWII, it was 1937 when Arthur asked Marcia to be his wife. Their love has survived through the tumultuous times of the war, the economic, political, social changes and is still going strong. In these days when we mostly hear the gloomy and depressing news, the story of Arthur and Marcia and their love for each other is the kind that lifts any mood.
If you see the amount of love they still have for each other, you would agree that this is straight out of a romance novel! Their grandson captured a video of Arthur, 105, and Marcia, 100, celebrating their 80th wedding anniversary.
Arthur grew up in Hammond, Indiana while Marcia spent her childhood in New York. They met each other at the University of Wisconsin and have been together ever since. Arthur was employed by the War Manpower Commission in Washington DC during World War II. He has a Ph.D. in economics from the University of Michigan. Marcia was the Director of social work at Hebrew Home for the Aged in Riverdale, New York. According to Gabe they now live in Rye, New York.
Marcia is now bedridden and can't communicate. She can only say a few words now, but that doesn't take away the love you see in her eyes for her husband. In this emotional video, Arthur is seen expressing his love for her. When their grandson, Gabe Jacobs, a Brooklyn-based filmmaker, tells Marcia how lucky they've both been to find each other, you can see her getting emotional even though she isn't able to verbally respond. Arthur says, "I love you, I have loved you for 80 years. That's a lot of time". And it is for she was only 20 and he was 25 when they got married!
When he says this, she kisses his hands and tries to say something but the only thing she can say is 'hello, hello'.  Her reaction gets him emotional. He says, "I miss her all the time". He must be feeling all alone since the love of his life isn't able to communicate with him anymore. Marcia can understand his pain as can be seen from her reaction to his words. It breaks your heart a little to see this, but at the same time, it is this wonderful feeling of seeing a couple so much in love even after 80 years of marriage.
Gabe calls his grandparents 'superhumans' and feels proud to have 'descended' from them. He says, "Arthur is a beautiful man and so incredibly in love with Marcia. You can tell how sad he is that she can no longer communicate".
These two truly are superhumans for how many stories of such incredible love story have you come across?
Fiona The Hippo Photobombs This Proposal And The Internet Can't Stop Gushing
Nick Kelble decided to try something a little different for a date, especially since he had extra special plans in mind. Since it was a special day, he thought he would take his girlfriend, Hayley Roll, on a day trip to the Cincinnati Zoo to see none other than the famous Fiona.
Fiona is a hippo who has been famous since her birth. This baby decided to come six weeks before her due date in January and, thanks to the excellent medical team, she was born happy and healthy. Since then, people have lined up to see this cute hippo, and does she love the camera! She is quite the diva, who loves to pose and be clicked and people can't stop gushing over her.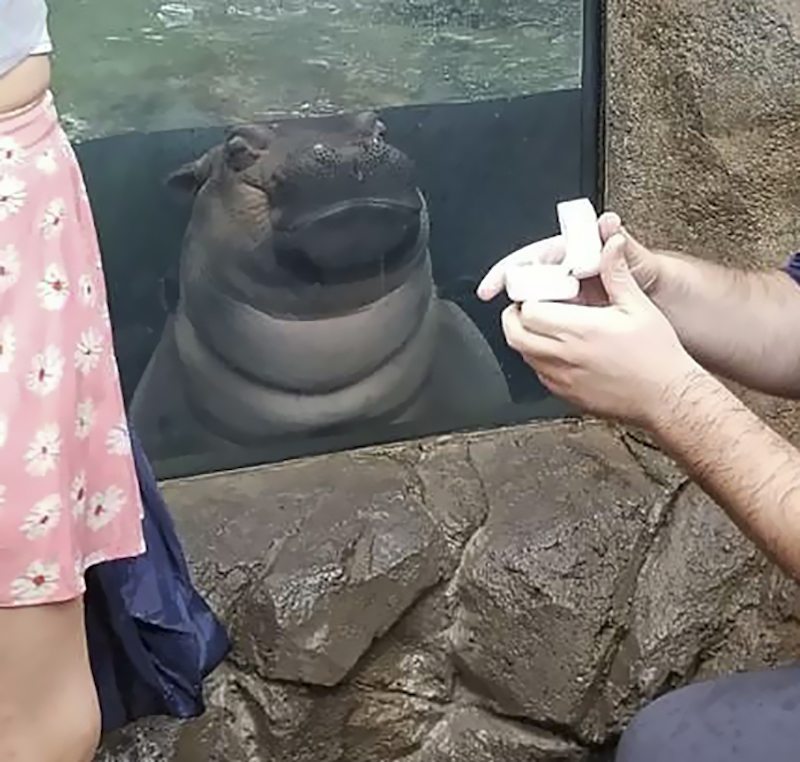 Fiona obviously loves the attention, so she doesn't disappoint any visitor who comes to see her. So, Nick and Hayley were obviously delighted to see her. Hayley handed her phone to someone to take a photo when something amazing happened. She turned around to see Nick on his knees with a ring in his hand!
While this was in itself an amazing moment for the couple, they were in for some more surprises! This couple of one year found another party interested in the proposal. When they looked back at the photos they were surprised to see who photobombed their special moment. It was none other than the diva herself! There she was swimming when she decided to look at what was happening on the other side of the glass. Her eyes seemed to have been glued to Nick. Many commenters noticed the same and started to joke on Fiona's eagerness. One person said, her expression was like, "If you don't say yes, I will". And if you look closely, it truly looks like Fiona's taken by this proposal! Some other person commented, "I just want somebody to look at me the way that baby hippo looks at him". And it is true for Fiona's facial expression is simply adorable!
People couldn't stop gushing over Fiona earlier and after this set of photos went viral, she has obviously taken over the limelight from the couple. The couple's special moment seemed to be overshadowed by Fiona's adorable expression, not that they mind. They think Fiona made it even more special for them. Hayley said on Instagram, "We're so happy Fiona could be there on our special day."
This cute baby hippo has managed to not only steal the hearts of all those who come to visit her daily, but of millions of internet users across the globe, and we still can't get enough of her!
Share these sweet love stories to spread good news all over the internet today!