God's creations are truly exquisite and often leave you amazed at the sheer diversity of life forms on earth!
A guy named Dan and his son Lincoln have their own YouTube Channel called What's Inside where they cut open things to look at their contents as part of science research. In a recent episode, the father-son duo is seen ripping apart a wasp nest and taking a sneak peek inside. The video clip opens up with Dan, Lincoln and Lincoln's friend Kai unboxing a large wasp nest that they had earlier ordered at eBay. Having the size of a large basketball, the wasp nest had traveled a long distance all the way from Wisconsin and looked terribly freaky, to say the least.
A visibly flustered Dan was a bit wary of opening the wasp nest and witnessing what was inside it. However, willing to take his chances, Dan went ahead with his knife and began sawing the nest in half, while the two young boys looked over eagerly.
Once the wasp nest was adequately ripped apart, the boys nearly screamed in awe of what they saw inside it. While the boys examine one half of the wasp nest, Dan comes onto the camera holding the other half and showing it on screen for the benefit of the viewers.
To lighten up the atmosphere a little, Dan makes a joke of how he had found a big wasp inside and waved it away towards the two boys, freaking them out! Watch it all happen in the video below:
Did you think this video was crazy? Share it with your friends so they can marvel at what was inside this nest!
The Answer To The Controversial Question: Should Utensils Go Face Up Or Down In The Dishwasher?
God wants us to take care of ourselves so that we remain disease-free and healthy. God has given us various tools so that we can keep ourselves clean. By keeping ourselves free of dirt, we are keeping our holy vessels pure and free of contamination. We must pray to God regularly so that our souls are clean.
Did you know that there are three things that we should keep in mind when we are using the dishwasher? Most of us have the habit of stuffing as many items as the dishwasher can take so that we can speed up the cleaning process. However, by following these three simple rules, you will be able to get clean dishes all the time.
The first thing you need to do is keep your silverware in different positions so that the dishwasher can remove all the dirt from them. If you keep them all in the same position, the dishwasher won't be effective in dirt removal.
The second rule is to keep the sharp ends of your kitchen knives facing down to prevent accidents while using the dishwasher. After all, you don't want to cut your hand while handling the dishwasher.
Last but not the least, never load your prep knives in the dishwasher because they can damage it. The sharp edges will cut the plastic or rubber coating, making the dishwasher prone to rusting. On top of that, the temperature and detergents will damage the handles of these knives. Always wash them with your hands if you want to clean them!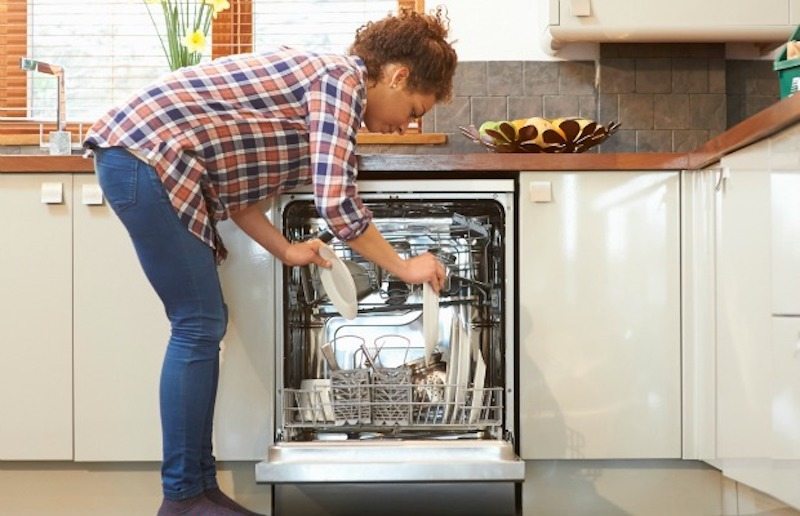 Share this story so that others can know these easy tips about how to clean their dishes!
How To Find Hidden Money In Your Own Home
God has distributed wealth among all his favorite creations so that they will have all the necessary things to lead a life of happiness and content. As wealth is one of God's many gifts to us, we must use it to help those in need. If we have an abundance of wealth, we should share it with others as they are our brothers and sisters.
Jeff Rossen, a national investigative correspondent for TODAY, released a new book, "Rossen to the Rescue," which shows us different techniques to save money. However, he showed us how to make money by discovering items of high value that are all around our house on the TODAY show.
Along with "Everything But the House" show's co-founder, Jacquie Denny, Jeff Rossen went to meet the Altschul family. Jacquie and Jeff started looking around the house so that they could find valuable hidden treasures. "Everything But the House," is an online platform where people can sell things in the house ranging from memorabilia to antiques to jewelry. People can also do the same on the Shopify and TheRealReal app.
After going through the house for a considerable amount of time, Denny and Jeff were able to find a lot of items that are valuable. According to Jeff, the Alschutz home has items that are worth about $7,850.
Denny has a free tip for all of us, "Start looking in the drawers, in the closets."
Share this story to let others know easy ways to find hidden money in their own homes.
Selfless Young Boy Donates Hair To Kids With Cancer, A Few Months Later Doctors Give Chilling Diagnosis
When we are suffering from diseases, we shouldn't be angry with God. As he works in mysterious ways, he always has a plan for us to make our lives better and bring us closer to him. We should never lose faith in God, especially during hard and dire times. We should show God our never-ending faith by praying to him every day.  
Torrin Breneman, a 12-year-old kid from Detroit, always wanted to help out sick children. Even though he was selfless, a recent turn of events changed his life forever.
Torrin learned that when kids who are suffering from cancer lose their hair, their self-esteem gets affected because of the way they look. Torrin also found out about Wigs For Kids, an organization which provides free wigs to children who are suffering from hair loss.
Torrin wanted to grow his hair for at least three years so that he could donate it to this charity. As Torrin was growing his hair, a lot of people kept assuming that he was a girl. Torrin also had a hard time in school because the bullies kept making fun of him.
Torrin was suffering from a bad cough which wasn't going away. As he became quite ill, he had to get admitted to the ICU. After the doctors diagnosed him, they gave him the news – he had Hodgkin's Lymphoma, which was already stage 4.
Ever since September 25th, 2017, Torrin has been in the hospital, undergoing chemotherapy treatments. We hope that Torrin continues to fight the disease and get better over time!
Share Torrin's story and pray along with us for this strong little boy's recovery!