A father is God's greatest gift. A father is a hero, a role model, a guardian. He's our best friend who provides us with the courage that we need to face the world. He disciplines us, but with love, and is our confidante. He would do anything to protect us and provide for us. A father's love is unparalleled and unconditional.
Every child needs a father's guidance when growing up. A good father is an example to his children. His behavior reflects on his children. Unfortunately, there are many people who have lost their fathers at quite an early age. Among them, a majority of people lost their fathers to the Army. Here is the story of how a son reacted to seeing his father's grave.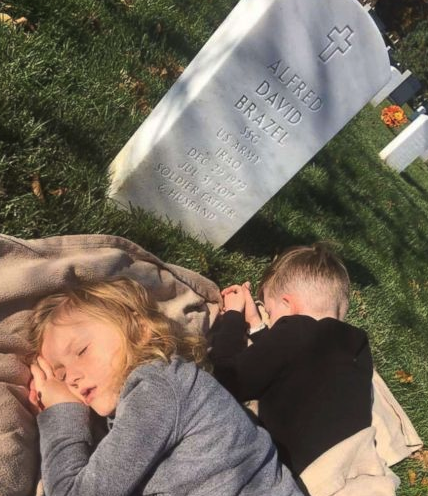 A staff sergeant had passed away and was buried in the Arlington National Cemetery. On November 20, his two sons came to the cemetery to see his headstone for the very first time. The two little boys, Mason and Mylan had brought with them a blanket. This may seem unusual for bringing into a cemetery, but the boys had their reasons. The boys wanted to sleep next to their father. Myla said to his mother that he could feel his father and wanted to take a nap with him.
Both boys spread the blanket on the grass next to their father's headstone. Mylan was lying down while Mason took a little while to pray. Their mother stood back as both boys spent time with each other and with their dad.
The boys' mother, Kait Brazel recalls that her children, aged 8 and 5 did not once cry when their father passed away. The family chose to be brave and handle the situation differently, despite the devastating blow.
Their mother encourages them by telling the boys that their father was a very strong person and that God needed him so that He could reach out to people through their father. The 29-year-old mother was able to justify their fathers passing in the most beautiful way. They accepted this fact and chose to live their lives with strength and courage.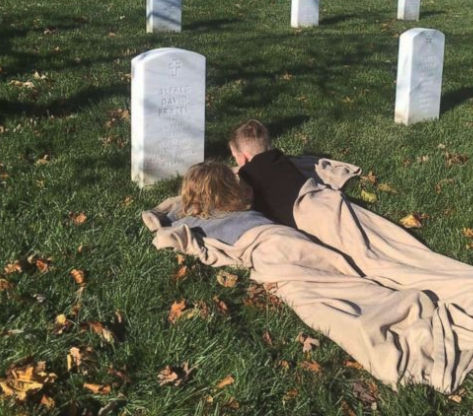 Staff Sgt Alfred Brazel passed away after he was diagnosed with severe rectal cancer on July 31. The cancer had metastasized to the liver, taking away his life at just 37 years.
Alfred's wife, the boys' mother recalls the person that he was. He was a man with a mission and his mission was to reach out to people and bring them to God. She says that Alfred had a very fulfilling life and he did not have any regrets about his passing. He had lived a very fulfilling life. He fulfilled his purpose and he fought very hard in life.
Visiting their father's headstone was a very special experience for the boys. It was almost like they could feel his presence and talked to him as if he was right there.The boys shared how Mylan seemed to be faring well in his fight class, the recent Halloween party he attended while Mason told him that he won a swimming competition.
They made sure to keep their father updated with what happened in their lives even if he wasn't there.
Share this story and pray for this family!