Music connects people all over the world, irrespective of who they are and where they are from. It is a medium that speaks to people, even if they don't understand the language a song is written in or are not familiar with a certain genre of music. Music entertains, brings people together, and lets you have some fun. Fun is what Bruno Mars had when he appeared on James Corden's popular series, Carpool Karaoke.
Bruno Mars appeared with James Corden in the latest video for Carpool Karaoke. Although the 15-minute segment has featured some amazing artists over the years, Bruno Mars created music of a different kind. He was soulful, fun, and absolutely amazing, having a ball of a time singing some of his popular tracks on the video.
There was also a lot of conversation and interaction between the two, and Corden learned a few surprising facts about Mars. Mars has apparently been singing since he was 4, impersonating Elvis Presley wherever he went. Mars is also apparently very low maintenance and requires only a few basics when he is touring. Mars also said he was proud of the fact that he could wear and carry off just about any kind of hat and look great while at it. Corden made Mars try on a few funky hats for proof.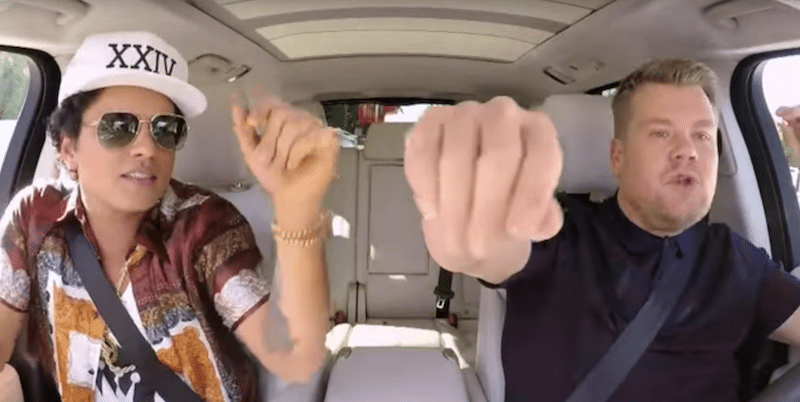 The duo sang a bunch of tracks by Mars, including Grenade, 24k Magic, and Uptown Funk. Mars also sang some Elvis Presley numbers. They then went on to talk about the women in their lives and sang some wonderfully romantic melodies, also by Mars.
Corden and Mars really hit it off with each other during the segment and seemed to be having loads of fun shooting the video. They joked around with each other, sang melodies, and got to know interesting things about each other during the video. Corden admitted he had not enjoyed himself this much while shooting this segment or singing for a long time. If you watch the video, you can tell they are having the time of their lives shooting the video and singing and just having a lot of fun.
James Corden hosts a show called The Late Late Show with James Corden, and Carpool Karaoke is a popular segment on the show. Carpool Karaoke started in 2014 for a documentary, and the idea developed from there. In the series, Corden appears to be trying to get to work in Los Angeles using carpooling and sings karaoke tracks with well-known and award-winning artists and personalities such as Elton John, Missy Elliot, Stevie Wonder, Chris Martin, and Jennifer Lopez, among others.
Share this story with your friends who love Bruno Mars so they can watch this hilarious performance!