Adele and her songs seem to have a universal appeal to people of all ages and who prefer different genres. It is difficult to put a label on her genre. The beautiful, deep voice, that soulful and passionate music, and the hard-hitting lyrics is a combination of success. To create a rendition of her songs is, therefore, no easy task, especially a song like "Hello". This single made history, it was the first song in the US to sell more than one million digital copies within a week of its release. This song, released in 2015, still has the same amount of popularity even years later. People from all across the globe, speaking different languages, love Adele and her songs.
Everyone loves to listen to and sing Adele's song. But trying to create a rendition of an already beautiful song? And be good at it? Sounds impossible, right? "Hello" is such a perfect song that it is very difficult to imagine that song being sung in a different style and still end up sounding perfect. While the song has been covered by people like Celine Dion, you've got to be really talented and have a lot of gut to try something like this. Thankfully there are tremendously talented people across the globe. So, when a talented brother-sister duo from Solomon Islands (Solomon Islands is a chain of islands off the northeast coast of Australia) heard Adele's song, they loved it so much that they wanted to sing it themselves, and they also wanted to give it a little twist to make it their own.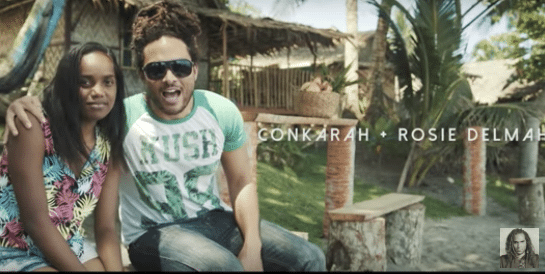 Rodesha, or Rosie Delmah, and her brother Conkarah (Nicholas Murray) decided they would sing "Hello" together and add a bit of reggae in the music. They then decided to make a simple video of it. The result? Absolutely fabulous!
The video itself is simple, they are both in their natural elements, and that is what makes the video so appealing. The depth of the song comes out so well because they are in their natural setting and doing their own thing. Their performance doesn't look set up or artificial at all.
As for the song itself, the twist in the music and Rosie's powerful voice makes the song distinctly their own. Trying to match up to Adele's voice is quite a task, but this girl did her own thing and still managed to keep the song as powerful as the original. Conkarah joins in with his beautiful voice to add another element to the already beautiful sounding cover. He brings in the reggae beats and a relaxed vibe to the song, and it all just ends up sounding magical. Rosie's bit is also harmonized, adding another layer to the song. They both seem to be very much into the song; though Rosie's the more passionate one and Conkarah's the more chilled out one. This starkly different attitude of theirs adds to the flavor of the song, and both of them have incredible voices!
You feel the song as you hear them sing. And if you've already been enjoying the song, wait until you reach the end when Rosie decides to let go and expose the full power of her voice. Do you want to know something even more amazing? When Rosie did the cover, she was only 14 years old! It is quite unbelievable that such a small girl has such tremendous talent!
This video took the internet by storm and has had more than 70 million views until date. Kudos to the siblings for making such an amazing rendition that Adele fans have loved!
Share this beautiful rendition of "Hello" with your friends who are Adele fans so they can hear these beautiful voices!