We all know that life is not always rainbows and butterflies. The harsh truth is that sometimes we are met with terrible tragedies in our lives, misfortunes that we would never wish upon anybody else. And it's not just adults that have to go through these, even little kids are not spared. Tragedy does not differentiate. But in the midst of all this, God does not leave us alone. He is always there with us to comfort us, to guide us and give us strength. God shows us His love through family, friends or complete strangers.
In June 2015, a family of six including the dad, mom, and four kids, were driving on I-76, in Brighton, Colorado when their SUV rolled over along the side of the road into a field, ejecting all six members from their vehicle. The father, unfortunately, died on the scene.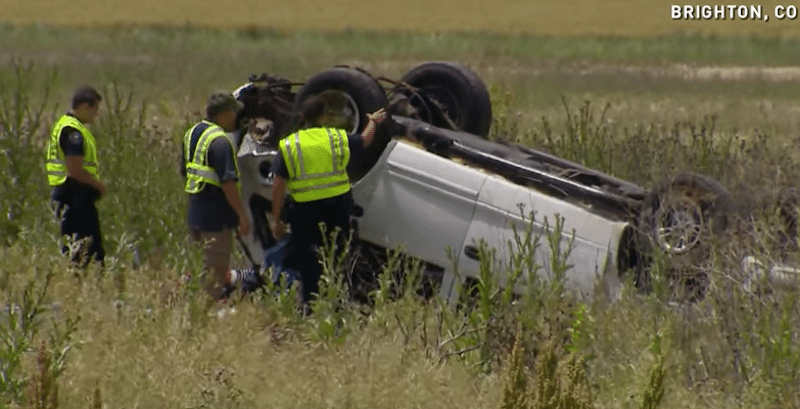 Officer Nick Struck was among the cops who responded to the accident. To his surprise, he saw a 2-year old baby girl who survived the car crash. She was alone at the scene, looking shocked and confused. Officer Struck, a father himself, could not bear to see the little girl witnessing any more of the horrible scene in front of her. So, in the sweetest act of kindness, he carried her away from the scene of the crash, and did the only thing he could think of that would distract the 2-year old and take her mind off the accident. With the toddler in his arms, he pointed towards the sky and started singing "Twinkle Twinkle Little Star".
"My daughter, when she falls down and hurts herself, I sing "Twinkle Twinkle Little Star", so I started singing it to the little girl. The rule we do is, to keep them safe, what would I want that dad to do if it was my daughter?" Struck said, explaining why he did what he did.
A lady who witnessed the accident, seeing what the officer did, captured this moment and it has been touching the hearts of people everywhere. "I'm super thankful that lady kind of captured that moment. That's what our job was. As an officer, you're prepared, but with kids, kids are hurting and in pain, that's the worst." The officer added, "And knowing that that little girl is not going to have her dad just definitely makes it hard."
We are lucky to not have to witness such horrific moments of life almost on a daily basis, but officers like Struck have to deal with it. And when they find themselves in situations like these, they don't even have to waste time wondering what the right thing to do is. They just know what the right choice is. And for this particular accident, Struck said, "If we can comfort anybody, of course, we are gonna go to the kids. Who wouldn't wanna go to their kid?"
Share this story to encourage others to be kind and join us in praying for this little girl who survived.